ProfiMasking Image Editing: Order process
ProfiMasking offer professional image editing services: clipping path, masking, vector graphics, retouching, photomontage, photo editing and photo restoration. On this page we have described the order process in detail. For more information about our images editing services please click on the menu bar to your left.
Please follow the link Editing Photos Service for more information on our image editing service. For more specific work examples please follow the section Image Editing Demo.
For more information on photo editing and retouching service please click on the following links: Premium Retouching, Standard Retouching, Photomontage, and Photo Editing.
Why choosing ProfiMasking for your image editing needs?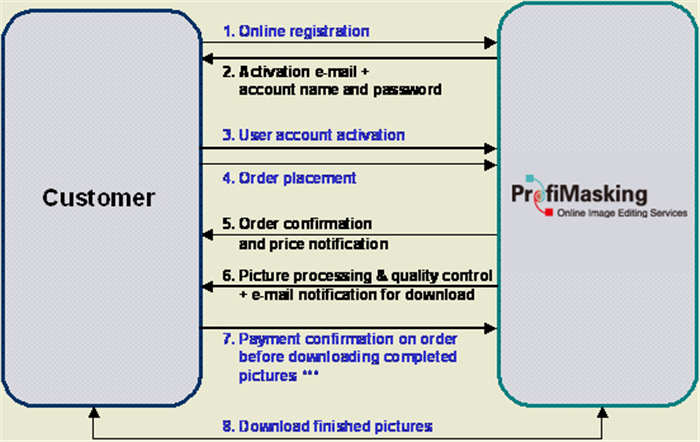 Image editing: Online registration and activation of your account
Please register with all your contact details. For companies, we also need the VAT number. After registration you will be sent an e-mail with a link to activate your account. After you have activated and logged in to your account you can upload pictures and place orders.
Image editing: Order placement and confirmation
You can choose different methods to send us your images:
- HTTP Upload: For low volume orders you can upload your images via HTTP.
- FTP Transfer: In case you have large amount of image data, please use the FTP transfer. We will give you access to the FTP space after your registration. FTP login name and password are the same as your ProfiMasking account name and password. After the pictures have been uploaded you will get a confirmation notice from ProfiMasking about the price of your order.
Image editing: Image processing and notification
After we have received your pictures we will check and categorize your pictures according to their complexity. Orders will normally be processed within one business day. Individual orders can also be handled over the week-end. Upon request we will also offer an Express service. You will be notified by e-mail to download the pictures when your pictures are ready.
Image editing: Payment and download images
After the job is finished, you will receive an e-mail notification for downloading the images. There will be a link in the e-mail for you to download the data. There are different payment procedures depending on the user.
Private customers need to pay before downloading completed images.
Special rules apply to companies. In general, companies can download the images as soon as their images are completed. On a case-by-case basis, especially for new customers, companies may be asked to confirm the invoice amount and pay before downloading the completed images. Invoices will be sent to companies on a monthly base.
On request we can also offer you downloading your images via FTP
Image editing: Payment information
1. Via Paypal:
payment@profimasking.com
2. Via bank transfer:
Deutsche Bank

Account name :

ProfiMasking Bjoern Bruecker

Account number:

3745999

Bank code :

76070024

IBAN: DE89760700240374599900

BIC/SWIFT-Code: DEUTDEDB760
Note: The retention of your pictures in the ProfiMasking website

After the pictures are completed, we will inform the customer immediately and the pictures should be downloaded within 7 working days.

After the completed pictures have been downloaded by the customers, if there is no further rework needed, ProfiMasking will keep the completed pictures for additional 7 working days. After 7 days the pictures will be removed. Therefore, completed pictures will be removed after 7+7=14 working days.